Are you?
If not you are about to be!! Have I got a treat for you!
Oh my!
I can't take it!
I am giddy with anticipation and excitement!
It is my great joy and honor to share with you my most favorite little shop in my hometown of Canton, Georgia! It's called...wait for it... B.loved. I mean, really, how cute is that name?
Let me just set the stage:
It is right in the heart of our little downtown area. You walk down a brick paved sidewalk before you even walk in the door! Cute and oh so quaint! As soon as you open the door, the sweet aroma of the shop draws you in like a cozy blanket (scarf, robe, poncho or cardigan)ha! Then, you can't help but gasp and just take it all in...everything from candles to home decor, handmade jewelry, vintage signs, not to mention the gorgeous selection of sweaters, tops, tunics, jeans, boots, bags, and so much more! You are always greeted by a sweet smile. It could be Mandy (the darling owner), Nikki, Kadie, or Brooke. You feel welcome the minute you walk in!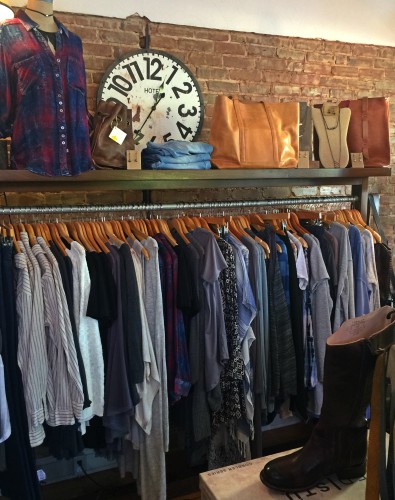 Recently, I was blessed to spend an afternoon with these lovelies. Mandy put some outfits together for me to try on and model. Who me? One of the many reasons I love B.loved is the great selection of adorable pieces for all ages, but also appropriate for a 50-something girl like me. So...you beautiful-women-of-wisdom don't think, for one second, B.loved is not for you. I think we have a misconception that boutique-type shops are not for us. Not so, my friends. NOT SO.
OK let's get right to it! My first outfit is a cross-over fringe sweater, so great for fall and the upcoming holidays. It can be dressed up or down with skinny jeans for a casual Christmas party. We paired it here with these grey booties and my favorite skinny jeans. The skinnies are Articles of Society. I bought my first pair back in the summer and I fell in love with them. These jeans are stretchy and comfy! Here's a tip...when tucking jeans in booties or tall boots, make sure the jeans are fitted at the ankle for a classic look!
The booties are Bedstu/Duchess in Smoke Grey Lux.
My next look is a cute red plaid button-down. It can also be worn open as a maxi shirt. I love this easy look paired with leggings or jeggings. It would be adorable tied up at the waist too. Psst...sweet ladies make sure your lower-lady-parts are covered front and back when wearing leggings. It just isn't flattering to see those things. Ughhhh! There are so many long-tunic-style options which are much more appropriate. Just keepin' it real!
The tall boots are Bedstu/Glaye in Caramel Lux.
I LOVE LOVE LOVE these boots! I actually own these. These are my first pair of Bedstu boots!!! Yay! I have a small (5.5) foot and have had a hard time finding a tall Bedstu boot that fits well. I was so excited that this particular style ran a little smaller! Mandy carries a wide assortment of Bedstu boots, booties, sandals, and even shoes for men. You must go check them out. Keep trying till you find your perfect fit! You will love them.
Here's a little tip. Hear me out ladies. Guess what? Drum roll...you CAN mix brown and black. Oh yes you CAN. See how we paired the black leggings with the brown boots? Isn't it just so perfect? I love the contrast. So...BE FREE my sister! You can do this! Try it. I think you will love it!
Ok last but certainly not least is this gorgeous look featuring this cozy blanket scarf.
OMG...this scarf (and the street lamp and the brick streets)! It's oversized and perfect for the cooler months. It can be worn as a wrap as seen here or...
It can be worn as a scarf here (is it obvious that I was trying to look cold here? I was actually burning up but hopefully you get the picture). Just throw it over a simple tee or longer tunic/dress like we did here. Easy peasy staple piece for sure.
Blanket Scarf is Free People.
Here are the three looks!
All different but all classic and comfortable!
Do you have a favorite?
What do you think? Which look would you choose? Girlfriends of all ages, especially my beauties over 50...get in there! You won't be sorry! Mandy, Kadie, Nikki, and Brooke are there to help. Promise! To my precious Texas girls...if you see something you love, they will be more than happy to ship it to you. Or heck, you could just come see me like Debbie, Gail, Courtney, Dicque, and Marilyn did last month and shop in person!! Please!!
To find out more about my beloved B.loved boutique you can find them on Facebook HERE or on Instagram HERE.
Georgia Peeps, B.loved is located on Main Street in downtown Canton. Hours are 10-6 Tuesday through Saturday. Also go visit B.Little, the shop for littles, Birth-Tweens! It's just around the corner. You will adore it too!
Psst....don't forget to enter for a $50 gift card from B.loved. Follow these steps to enter:
1. Subscribe to my newsletter via email below.
2. Leave a comment about your favorite look in the comments below.
3. Go to Instagram HERE and follow the directions! Winner will be announced in my newsletter Friday, 11/11.
Thanks to Mandy for this fun collaboration. I knew the first time we met, we would be friends. You are an absolute doll and the cutest mom-to-be! Thank you Kadie for the beautiful pictures. Your styling and posing ideas sure made this old lady feel beautiful and look half-way decent! Look out Heidi Klum! Ha! Nikki and Brooke, I always love seeing your sweet smiling faces too! It was a joy! Be blessed and b.loved!
Glo XO